Light


#5746 - December 8, 1957
In this episode about 'Light', Mr. Wizard uses a lamp and a solar battery to spin a fan as he explains to Tommy about the Photon Theory.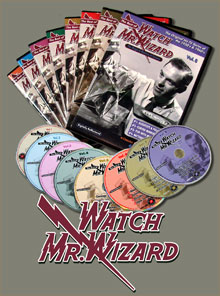 Click to order!

Solutions


#5831 -December 21, 1958
Betty Sue follows Mr. Wizard's steps as they discover how ordinary table salt, found around the house, is a good conductor of electricity.
How The Telephone Works


#5303 - January 17, 1953
Mr. Wizard uses a replica of Alexander Graham Bell's first experimental model to show Betsy 'How A Telephone Works'.
Radioactivity


#6013 - April 2, 1960
In his classic style, Mr. Wizard uses a Geiger Counter to illustrate Beta and Gamma Rays in this episode about 'Radioactivity'.