Science In A Candle


#6437 - January 25, 1964
Rita and Mr. Wizard explore and discover the many fascinating properties that candles possess and the interesting phenomena that they create.
Volume 4 Episodes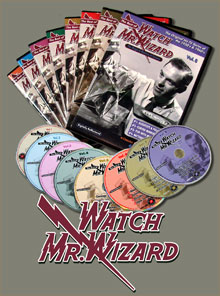 Click to order!

Topology


#6501 -February 7, 1965
"The Science of Surfaces" - as Mr. Wizard shows Alan the many ways to look at and understand an objects properties & surface illusions.
Tricks With Inertia


#6211 - March 24, 1962
Phil is wowed by Mr. Wizard's ingenious challenge and witty explanation of Inertia. The properties and powers of mass - a must see science topic!
Buoyancy


#5617 - April 28, 1956
Irene and Mr. Wizard question how objects float. How do some things keep from sinking while others lose buoyancy? This fun episode explains it all!