Geology


#5124 - August 18, 1951
Mr. Wizard demonstrates how
erosion occurs and otherfascinating examples of the Earth's properties such as Gold, Silver and Copper.
Volume 5 Episodes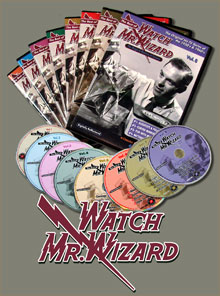 Click to order!

Radio


#5225 -June 21, 1952
Mr. Wizard explains how sound travels and how sound waves are created, to Willy's fascination, in the popular episode on how a radio works.
Meaning Of Words


#6235 - December 16, 1962
Mr. Wizard and Rita investigate the meaning of words by a series of very clever experiments in sound and image association.
Sticks & Stones


#5431 - August 7, 1954
Buzz gets to experience one of Mr. Wizard's best...a mini volcano. He also explains how the earth's crust and surface were formed.