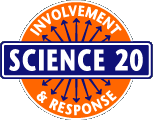 The DVDs in this series contain various episodes that are each 20 minutes long...hence the name...and they present experiments and demonstrations from the viewpoint of the person doing them. This unusual perspective involves the viewer in the action where they can observe, be challenged to measure, record, compare, classify, analyze, calculate, solve, evaluate, verify, theorize and predict.
The DVDs are also open ended in that some of the final steps of a solution or further investigations are left for students to complete.
There is also a comprehensive teacher's guide with detailed outlines of the "plots", background information, suggestions for student activities, descriptions of the techniques used, student data sheets (with answers) - all to help make the DVDs effective teaching tools.
Mr. Wizard's Science 20 DVDs were produced by Mr. Wizard but at this time, there is no release date scheduled. Keep checking back here at this website for any new information!